Coach Buck Laukitis
Buck Laukitis is in his seventh year of coaching adult women's hockey. He promotes a skill development approach to learning that keeps practices fun, positive and challenging. His enthusiasm and love for the game of hockey rubs off on his players, and he is helping grow the sport in many new ways.
As a product of USA Hockey, Buck was coached by Bob Johnson, Jeff Sauer, Mike Sertich, Lou Vairo and many other great coaches. When he was 16 years old he was chosen for the USA Development Camp at the Olympic Training Center in Colorado Springs. Then again at age 20 he joined the US Junior National Team try-out camp at the OTC. He played college hockey at Colorado College. He graduated with a philosophy degree and received WCHA academic honors.
Buck Laukitis worked at the Bob Johnson Summer Hockey Camp in Aspen, and he coached dry land training, strength and conditioning at the Olympic Training Center. He coached the Homer Mariner high school hockey team for 7 years and received Coach of the Year honors in the North Star Conference twice, the Coach of the Year award from Homer High School and the Kevin Bell Award.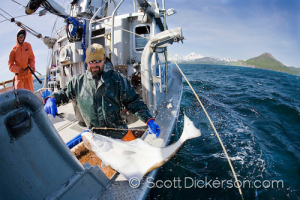 Buck Laukitis is a commercial fisherman in Alaska and a volunteer hockey coach in Homer, Alaska where there are as many adult women hockey players per capita as any town in the USA.
As a volunteer coach the best achievement is when I know I've helped create a hockey player – someone who loves her team, feels a sense of accomplishment by learning new skills as an adult, and has passion for the greatest game.

Coaching adult women's hockey has been a great challenge. At first I was reluctant, because we were starting from such a basic level and the results seemed to come so slowly. But it is amazing! The players are having so much fun. They are encouraging each other to learn. And now they are playing such good hockey! It's a great lesson. To them it's all about the fun, and when they are having a little too much fun I tell them that despite all my years of hockey experience, "I am clearly unqualified to coach you!"
~Coach Buck Laukitis