What we talk about before every game: Three ABCs: support the puck, protect the puck, and play on the defensive side of the puck.
Protect the puck.
Take body position and keep the puck to the outside or away from the opponent's stick.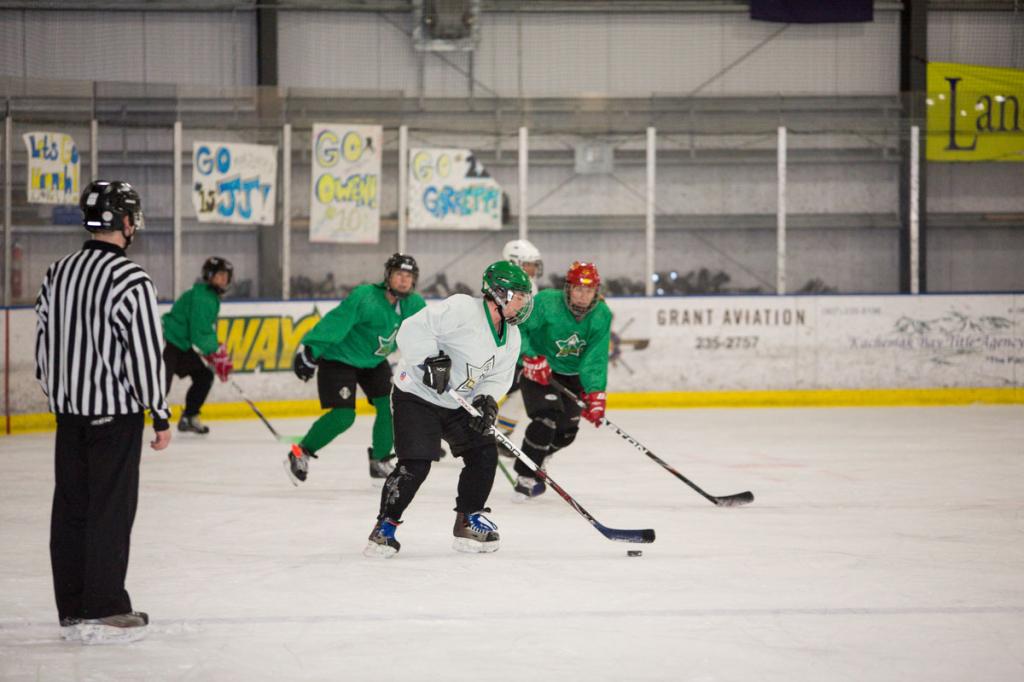 You are playing no check hockey. No one can knock you off the puck. Be patient with the puck on your stick. Most beginner players get to the puck and whack it away. Practice puck protection moves in all areas of the ice. Most of us can't stickhandle in a crowd, but we can successfully protect the puck to make plays. The problem is you don't have eyes in the back of our head, so when you turn to the outside to protect the puck, you are going to need support or need to be able to eventually come off the wall to make a play.
This is easy to practice with a partner shadowing you on the defensive side. Protect the puck on the wall. Start and stop, change directions, sense where the defender is on your hip, create some space, be patient, then roll off and face up to the goal to make a play.
You want to use all of the ice. One on one drives to the net give the advantage to the defenseman. Sometimes you can protect the puck in the corners, along the wall or behind the net, buy some time and turn a one on one to a two on one to your advantage.
In a battle for a lose puck: Use your body to take away their space. We don't want stick battles for the puck. Rather, come in and take away their hands.
Tip: "Put your ass in their hands"