Creating a culture of fun
Name Yourselves.
Everyone agrees that being on a team is key. You need to name yourselves. The Divas is the name of our program, but we have tournament names, Jamboree names, and sponsor names. Examples: Aye team (from Whitehorse, Canada), Am Bush, Chicks with Sticks, Team Bob (Boyfriends on Batteries), Hockey Hoes, Klondikes
Go to or throw a party (I mean a tournament).
My standard line is, "you lost the championship on Sunday, but you certainly won the party on Saturday night." (I also advise that my team does not need to dominate the party. You only have to win by one.) Many times there are themes to the tournaments/parties: Academy Awards and movie themes with plastic Oscars glued to a puck for awards. "Married to Hockey" where the Divas all wore wedding and old prom dresses to the party. In support I wore a Tux with a Blackhawks cumberbund. The Divas have had a western theme, a 70s disco theme, a Jersey housewives theme, a girl scout theme and others, but they were all creative and made the tournament even more fun.
There is a creative power of women not subject to the school rules. Most Divas are more concerned about the theme of the party than the skills of their opponents.
To say that costumes are a big part of Divas hockey is an understatement. I've occasionally proposed a sarcastic agreement where the Divas agree to spend equal amounts of time practicing hockey skills and planning for the party. Then in reality I settle for a small part of hockey preparation per part of party preparation.
Bring a Friend to Hockey Night
The Divas used this concept a couple of times a year to introduce friends who they thought were good candidates to enjoy the game. Each Diva would help get their recruit in gear and shadow them in a practice and scrimmage.
Make some Awards.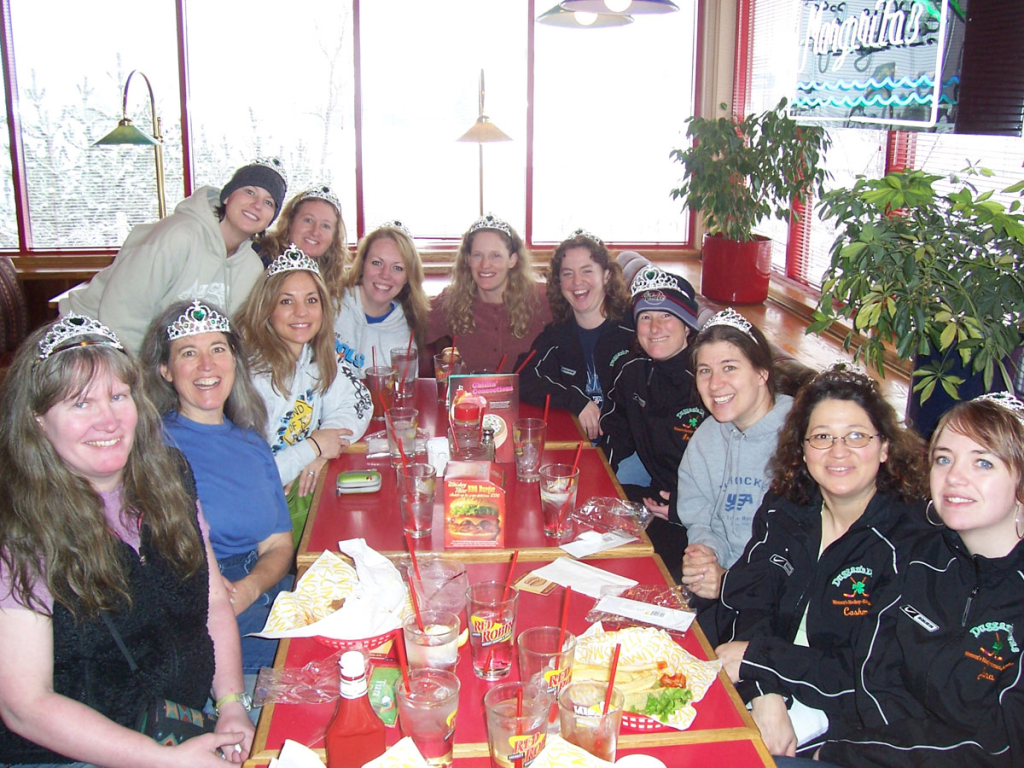 Awards are important. Most tournaments have an MVP award for each team each game. We give awards at the end of the season. Give awards for anything you can think of. We have a girl scout theme going on right now, where every night at practice the Divas pass out patches – for edge control, soft hands, back checker, wrist shot, etc. and the Divas give sew on badges. One of the most rewarding awards is a Kevin Bell puck that I give after a game for a Diva who scores her first goal.
At the party at the end of the season we have some annual awards: The Stineff Award is awarded to the adult man whose wife/partner is a way better hockey player than he is. Andrea Stineff was a Canadian ringette player who grew up on the ice who was married to Matt who was new to hockey. She could dangle, and he won the award for years until the Divas program really got going. Now it gets spread around and many people think that I may win it soon because of how good Shelly is getting.
The Douche bag award is a nightly award in co-ed that stays in the women's locker room for a guy who tries a little too hard to show his skills and knocks someone over or plays too hard on the puck.
Put on a Jamboree.
Jamboree tournaments are a great idea. The Divas have a Jamboree tournament every year. About 40 local women mix with more than 40 out of town players to make eight mixed teams. Everyone ranks themselves by skill and experience prior to the tournament. A committee picks the teams so that they are as evenly matched as possible. It usually ends up being one or two very good players per team, a lot of intermediate players and a couple of beginners. Mixing it up and playing with girls from other programs is always a good time. This breaks the rule about segregating by ability, but because everyone knows the situation coming into the tournament, it works.
Co-ed adult hockey.
There are varying opinions about co-ed hockey. On the positive side it is a great way to socialize. We have a regular Saturday night co-ed league. Many husbands and wives and partners play together or against each other depending on how they feel about each other any given week. There have been some notable hockey hookups in our town from co-ed. After five or so years of helping coach the Divas I can say that the ladies play such good position and fundamentally sound hockey that co-ed works. The Divas get challenged with speed because the game is faster than most women's games.
On the negative side there were several years where it was difficult to play co-ed. The Divas and some much larger men would turn into or away from plays awkwardly and collide. Women are never going to feel good after a collision with a 200 pound man. The Divas had trouble with hard passes and getting shots off. There were many times when we witnessed the worst kind of hockey – a guy going coast to coast without looking for or receiving any passing support.
I sense that most Divas like co-ed. It is a good social night and they get challenged. But they wouldn't give up their own ice time if they had to make a choice.