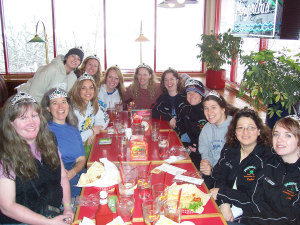 It is always a good idea to create awards with your group.
Four or five years ago we had an adult awards night. It was a blast. We thought up a bunch of great awards, like the Ricky Bobby Award ("I'm on fire! I'm on fire!). I won't say who got that one…
The 'second best' award went to the guy whose wife was better (way) than he was, so obviously it was called the Stineff Award, and Matt Stineff has unofficially received it every year since (even the years when Andrea was pregnant and on reserve status all season.) So Matt is always a good sport and agrees, since it is so obvious — she's Canadian after all, and he grew up playing Ultimate frisbee in Oregon, not Ringette like Andrea.
Tonight I  had this thought that the award may be competitive for the first time ever when I saw Karen Weston (our Hockey Association President) turn it on. She had that extra gear all night and pretty much pulled away from everyone every play — great jump, great wheels. I immediately mentioned this to Josh Weston and Matt in the men's locker room. Maybe the Stineff award would go to Josh this year, because Karen looked really good. I went back out of the locker room and mentioned this to Karen, and I think I heard her say, "Oh, I'm way better than Josh (my husband), of course he'll get the award." So I turned around and went back to the men's locker room and relayed what Karen just said to a lot of laughter right before we jumped on the ice for our men's league game.
Well I'm here to report that Josh had the hat trick tonight. He basically not only answered the bell, he scored three really nice goals. That is responding in a big way. I never would have stirred the pot, but I knew he was on my team. We won big thanks to his production.

So, there you have it ….. game on, with that award. More than a few men in the locker room thought that Kayla might force it on Scotty or Shelly on me. We'll see….

Good scrimmage tonight.
Keep your stick on the ice,
Buck