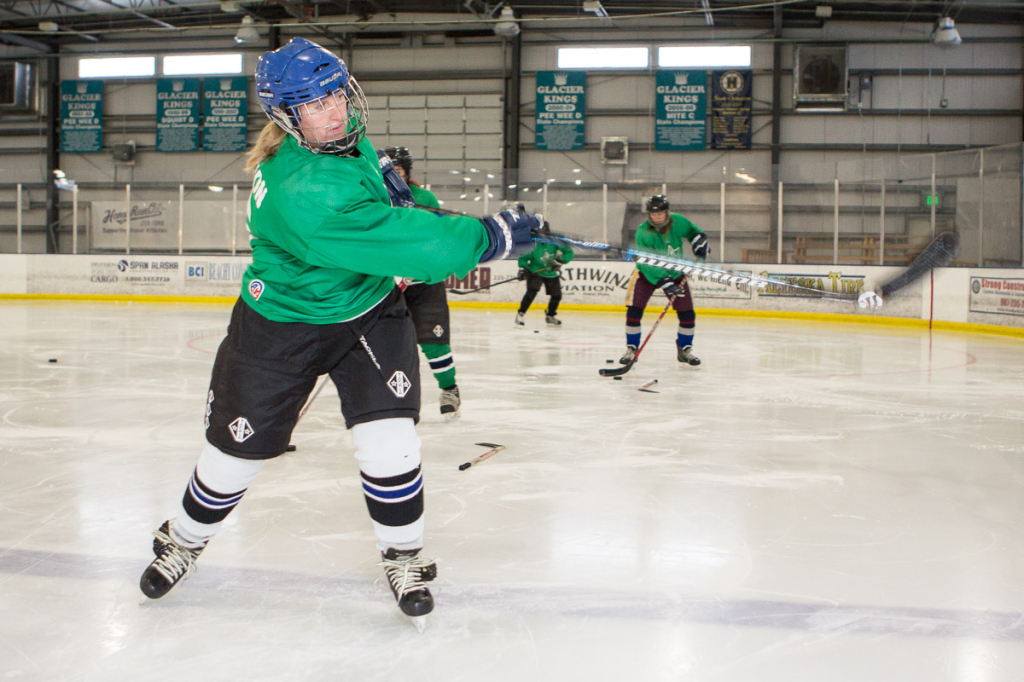 Divas,
I have a project and challenge that I need some help with. Are you familiar with "Give it 100?"
Check out how participants video their progress in learning a skill for 100 days. Just another great tip from Dan Coyle's blog.
The way it works is someone learns a dance, plays the violin, etc. and records her progress with short video clips (10 seconds). I'd like you to shoot 50 pucks a day off-ice or stickhandle a golf ball for 10 minutes a day. You do it for 100 days, and believe it or not I can guarantee you will be very happy with your results.
I ascribe to the grain of rice theory of learning. It doesn't matter where you are when you start, you just add one grain at a time, and with time you have a pot full of rice. You can learn anything you set out to do this way with a little bit of discipline.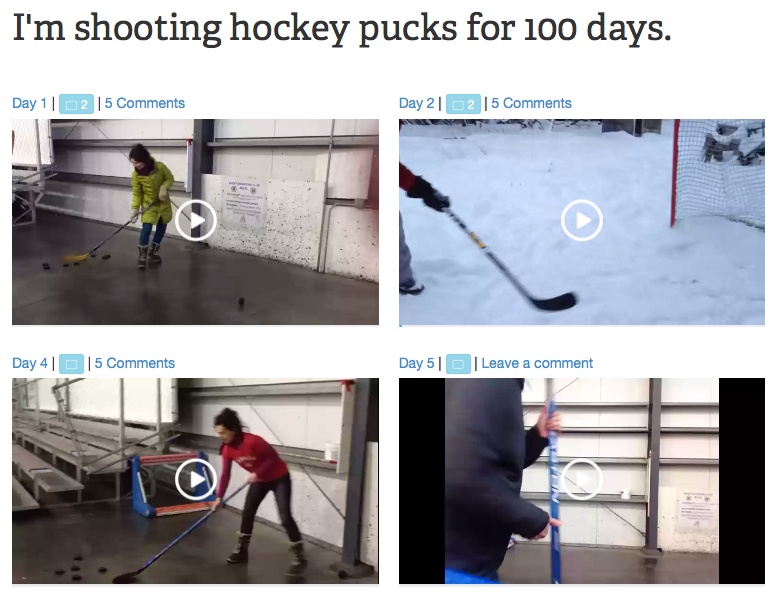 As you know I am working on teaching hockey skills. The progress (or lack of) progress we have made on our shooting skills is challenging me. I believe that this "Give it 100!" is a good format for improving shooting skills or stick handling skills — and both can be done off ice. By making it somewhat public with social media you add a little accountability and join a group of people who are struggling to learn some other new skill. If you don't want to mess with web, just do it on your own, but try it. You will be happy with the results.
The greatest thing about this is once you know how to shoot you will be able to do it forever. It becomes your skill and you have it forever.
I am asking for volunteers to watch a video of proper technique each time, then practice for ten minutes a day (shoot 50 pucks, or stick handle). You would need to set up a space (do it at the rink some days, at home other days), have a simple video camera set up — maybe 30 seconds of video per day — and some discipline. I'm happy to help with technique, and I'm sending some simple videos to help show off ice shooting and stickhandling technique. It is important to practice good technique, so you have to keep checking back to make sure you are doing the skill in the right way. When you get tired of these guys on video there are 10 other good ones on youtube.
Shooting:
stick handling videos:
Shelly set up a tarp in the garage and we spray painted a target on it. We use an ipad or imac for the short video.I know some of you already have goals and shooter tutors and some slick surfaces to shoot off of at home.
I originally said I would learn to country two-step (solo?) while you were shooting, but I have a better idea. I'm going to learn to shoot right-handed wrist shots (I'm a lefty), so I can experience learning this skill again as an adult. Maybe I will pick up some ideas of how to coach this skill more effectively.
I already know that it is just a matter of getting in the quality reps, and we will all be better shooters.
Check out my own progress giving it 100.
Let's score some goals!
Buck